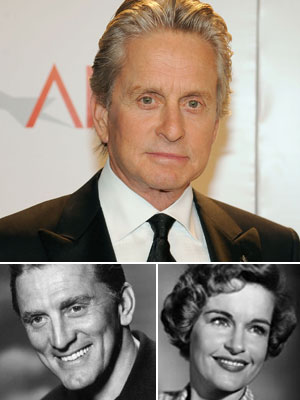 Michael Douglas
is considered as one of Hollywood's finest actors of all times. With a long list of awards and accolades this accomplished actor has appeared in numerous films, television series and stage theatres. During his acting career that started way back in 1969, Michael has delivered multiple hit films like
Wall Street
(1987),
The War of the Roses
(1989),
Basic Instinct
(1992),
Wonder Boys
(2000),
Solitary Man
(2005), and
Behind the Candelabra
(2013).
No wonder the Academy Award winner inherited his acting skills from his talented actor parents -
Spartacus
actor
Kirk Douglas
and
The Indian Fighter
actress
Diana Dill
. Michael is the elder son of Kirk and Diana, and also has a younger brother
Joel Douglas
who went into film production.
The first film association of Michael and Kirk could have been
One Flew Over the Cuckoo's Nest
, for which Michael acquired rights to the novel in 1975. When Michael went on to produce the film Kirk hoped to play the role of Randle McMurphy but was deemed too old for the part by Michael. The role was later played by
Jack Nicholson
and the rest was history.
Michael produced a comedy film in 2003 titled
It Runs in the Family
that featured four members of the Douglas family - Michael, Kirk, Diana and Michael's son Cameron.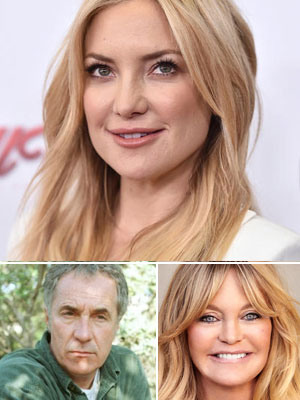 Hollywood actress
Kate Hudson
, best known for her role of Penny Lane in 2000 comedy drama
Almost Famous
, was born in Los Angeles, California, to Academy Award–winning actress
Goldie Hawn
and actor-comedian-musician
Bill Hudson
. She has a younger brother,
Oliver Hudson
, who is also an actor and is best known for his role as Adam Rhodes in the CBS comedy series
Rules of Engagement
(2007–13). Goldie and Bill got divorced when Kate was only 18 months old. Kate and Oliver were then raised by Goldie and longtime boyfriend, actor
Kurt Russell
.
Kate later admitted as part of media interviews that her mother is the woman she looks up to and has learned the most from, and that she considers Kurt as her father. Her biological father Bill stated that though he had made several efforts to connect with Kate and Oliver, neither reciprocated.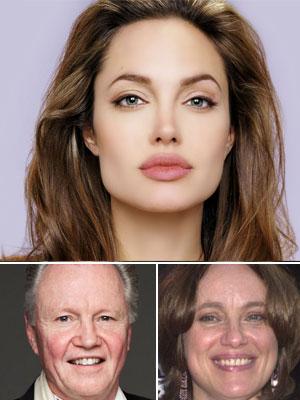 Angelina Jolie
is one Hollywood actress who needs no introduction be it for her strong acting abilities, long list of awards and accolades including an Oscar, or for her high-profile relationship with actor
Brad Pitt
that always grabbed media attention. The talented actress and mother of six children is the daughter of Academy Award winner
Jon Voight
and actress
Marcheline Bertrand
. Angelina in fact made her screen debut as a child alongside her father in
Lookin' to Get Out
(1982) and the father-daughter pair shared screen space once again in
Lara Croft: Tomb Raider
(2001).
Angelina and her brother were raised by her mother, after the latter got divorced, and abandoned her acting ambitions to focus on raising her children. It's believed that as a child she used to watch many films with her mother which worked as an inspiration for her to become an actress.
Angelia and Jon shared a bitter relationship which began when the latter left the family when his daughter was less than a year old. They started rebuilding their career after Marcheline died in 2007, however, they didn't go public with their reconciliation until 2010.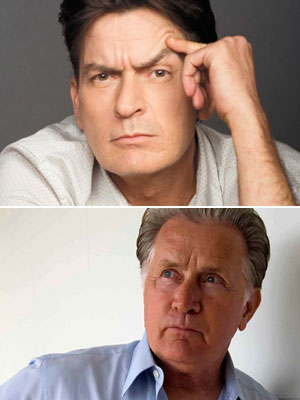 Charlie Sheen
, best known for his role in television series
Two and a Half Men
, was born in New York to actor
Martin Sheen
and artist
Janet Templeton
. Charlie has two older brothers
Emilio Sheen
and
Ramon Sheen
, and a younger sister
Renée Sheen
, all of whom are actors.
Charlie's made his acting debut as a child alongside his father in the 1974 war drama
The Execution of Private Slovik
. As an adult he rose to fame with a series of successful films such as
Platoon
(1986),
Wall Street
(1987),
Young Guns
(1988),
Eight Men Out
(1988),
Major League
(1989),
Hot Shots!
(1991), and
he Three Musketeers
(1993). However it was the television dramas, e.g.
Spin City
,
Two and a Half Men
, and
Anger Management
, that earned him the most popularity, fame and several awards.
Actor
Josh Brolin
was born in Santa Monica, California, to actor
James Brolin
and wildlife activist James Cameron. As a child Josh grew up in a ranch in Templeton, California, and had no exposure to his father's acting career. His interest in acting developed after taking an acting class in high school.
Josh started his career in TV films, and his first film role was in
The Goonies
(1985). He then went on to act in numerous films, and earned many award nominations. His most notable work include
No Country for Old Men
(2007),
American Gangster
(2007),
W.
(2007),
Milk
(2008), and
Inherent Vice
(2014).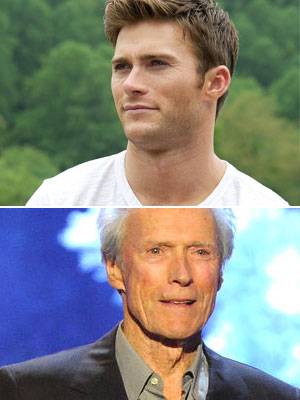 Scott Eastwood
was born in Monterey County, California to legendary actor-director
Clint Eastwood
and flight attendant Jacelyn Reeves, and was raised in Hawaii. He began his acting career with his birth name Scott Reeves to avoid nepotism, but later on changed his surname to Eastwood. Scott considered becoming a firefighter if acting didn't work out and worked as a bartender, construction worker and car park valet before embarking on his acting career.
During a media interview in 2015, Scott admitted that he had auditioned for almost all of his father's movies, and even got a rejection for
American Sniper
. The first time he worked in his father's movie was the 2005 war drama
Flags of Our Fathers
. He then briefly appeared in his father's 2008 film
Gran Torino
, and worked with him again in
Invictus
(2009).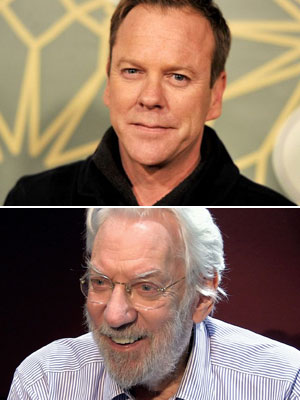 Kiefer Sutherland
was born in Paddington, London to
Donald Sutherland
and
Shirley Douglas
, both of whom are successful Canadian actors. He also has a twin sister Rachel. The Sutherland family moved to California in 1970, but Donald and Shirley got divorced five years later. Post divorce, Kiefer moved with his mother to Toronto where he did his schooling and also took acting lessons.
Kiefer made his screen debut in the 1983 comedy drama
Max Dugan Returns
, in which he shared screen space with his father. The next film the father-son pair worked together was
A Time to Kill
(1996). After working in the movie industry for more than 30 years, he had the chance to star with his father again in the 2016 western-drama film
Forsaken
.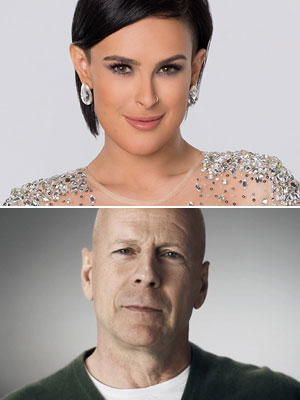 Rumer Willis
was born in Kentucky to the veteran actor
Bruce Willis
and actress
Demi Moore
. Rumer is the oldest daughter of now divorced Bruce and Demi and has two younger sisters - Scout LaRue Willis and Tallulah Belle Willis.
With the acting background she hails from, Rumer made her screen debut at the age of seven. Her first film was alongside her mother Demi in the 1995 coming-of-age film
Now and Then
. The following year she appeared in another film with her mother in the erotic comedy film
Striptease
.
Rumer has also worked with her father Bruce in two films - the 2000 crime drama
The Whole Nine Yards
and the 2005 action thriller drama
Hostage
.