Amal Clooney sparks pregnancy rumours
Posted: 11 January 2017, Wednesday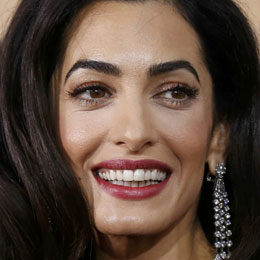 Human rights lawyer Amal Clooney, the wife of actor George Clooney, sparked off pregnancy rumours yet again while attending a special screening of Netflix's documentary The White Helmets at the Bulgari Hotel in London.

While 38-year-old Amal looked gorgeous in her Dolce and Gabbana floral dress, she grabbed eyeballs because of her fuller figure and loose dress which failed the tiny bump. George, who looked dapper in a grey shirt and black suit, was seen by the side of his wife most times and the couple looked happy and glowing. An insider also revealed that Amal steered clear of alcohol that night.

Rumours of Amal's pregnancy surfaced earlier too but the news was neither confirmed nor denied by the Clooney couple. Some reports are claiming that Amal might be pregnant with twins.

Amal and George got married on September 27, 2014 in Venice, Italy as part of a lavish wedding ceremony held in Venice's seven star Aman Canal Grande Hotel.

In the work front, the 55-year-old actor will be seen next in Suburbicon, a crime comedy film directed by Clooney himself and written by Joel Coen and Ethan Coen. The film also stars Matt Damon, Julianne Moore, Josh Brolin and Oscar Isaac.
What's your reaction to this article?
WOW
LOL
Happy
Cool
Sad
Angry
WOW
LOL
Happy
Cool
Sad
Angry
Amal Clooney
Amal Alamuddin
George Clooney
Joel Coen
Ethan Coen
Matt Damon
Julianne Moore
Josh Brolin
Oscar Isaac
The White Helmets
Suburbicon