Angelina Jolie files for divorce
Posted: 20 September 2016, Tuesday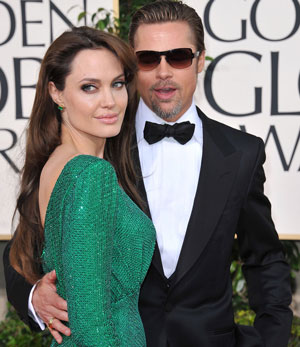 The Oscar winning actor Angelina Jolie has reportedly filed for divorce from her actor husband Brad Pitt. The news was revealed by Jolie's representative saying that the 41-year-old actress took the decision "for the health of the family". The rep has also asked that the family be given privacy as they are trying to deal with the difficult times.

A source close to the couple has divulged that the now estranged pair had been discussing the split but apparently Pitt found out only a couple of days ago that Jolie had gone ahead with filing the divorce to end their two-year marriage. "Brad only found out about the divorce decision on Monday," shared the source.

Jolie is believed to have cited irreconcilable differences as the reason for their split and is seeking physical custody of their children, to which Pitt responded, "She's just unleashed hell". Sources close to Jolie have revealed that Pitt's alleged affair with his Allied co-star Marion Cotillard, his supposedly bad parenting style and his consumption of weed and alcohol were among the reasons that prompted Jolie to make the divorce decision. An unknown 'incident', which is believed to have happened a week ago, has also been claimed as a trigger for the divorce process.

While the Moneyball actor is rumoured to be "furious" over Jolie's alleged allegations, he responded to media by stating, "I am very saddened by this, but what matters most now is the well-being of our kids. I kindly ask the press to give them the space they deserve during this challenging time."

Jolie and Pitt started an affair during filming of Mr & Mrs Smith (2005), at a time when Pitt was still married to actress and model Jennifer Aniston. Although they were the most talked about pair at that time, the pair never spoke in public about their relationship until January 2006, when Jolie confirmed that she was pregnant with Pitt's child. They announced their engagement in April 2012, after seven years together, and married on August 23, 2014, at their estate Château Miraval in Correns, France. The couple, popularly tagged as "Brangelina", have six children - Maddox Jolie-Pitt, 15, Pax Jolie-Pitt, 12, Zahara Jolie-Pitt, 11, Shiloh Jolie-Pitt, 10, Knox Jolie-Pitt, 8, and Vivienne Jolie-Pitt, 8.

The last film in which the duo worked together was By the Sea (2015), written and directed by Jolie and produced by Pitt. They also appeared in the film as the lead actors.
What's your reaction to this article?
WOW
LOL
Happy
Cool
Sad
Angry
WOW
LOL
Happy
Cool
Sad
Angry
Angelina Jolie
Brad Pitt
Jennifer Aniston
Mr & Mrs Smith
By the Sea