Ethan Hawke on his role in The Magnificent Seven
Posted: 23 September 2016, Friday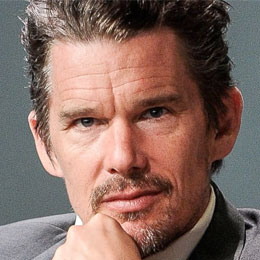 Antoine Fuqua's remake of the 1960 action drama The Magnificent Seven is all about sooting, gun spinning and cowboys, and if reports suggest that the renowned sharp shooter, Thell Reed has worked behind the scenes as the armourer and gun coach for this movie.

Ethan Hawke, one of the prime cast members in the movie who portrayed the role of Goodnight Robicheaux, has reportedly admitted that although he was happy with his character name, the role he played was incredibly demanding. The already complex role was even made tougher by Louisiana's extremely hot and rainy weather conditions. "It was about 104 degrees [Farenheit] and raining and it was miserable."

The 45-year-old actor also shared that while horse-riding and shooting dressed like a cowboy may look charming on screen, preparing for those scenes and filming them weren't easy at all. "We were all dressed in wool and blowing things up with horses and worrying people were going to get hurt and the combination of the heat and the rain made it very difficult."

"No scene was simple - every scene involved lots of extras and action it was just really intense," added Hawke.

Besides Hawke, the film features Denzel Washington, Chris Pratt, Vincent D'Onofrio, Lee Byung-hun, Manuel Garcia-Rulfo, Martin Sensmeier, Haley Bennett and Peter Sarsgaard in pivotal roles.

The film is being released today (23 September) under the banner of Columbia Pictures.
What's your reaction to this article?
WOW
LOL
Happy
Cool
Sad
Angry
WOW
LOL
Happy
Cool
Sad
Angry
Antoine Fuqua
Ethan Hawke
Denzel Washington
Chris Pratt
Vincent D'Onofrio
Lee Byung-hun
Manuel Garcia-Rulfo
Martin Sensmeier
Haley Bennett
Peter Sarsgaard
The Magnificent Seven