Kathy Bates gets star on Hollywood Walk of Fame
Posted: 21 September 2016, Wednesday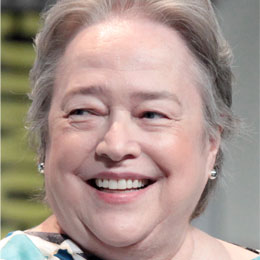 Academy Award winning actress Kathy Bates was honoured with a star on the Hollywood Walk of Fame on 20 Sep, Tuesday as part of a ceremony that was attended by actors Billy Bob Thornton and Shirley Maclaine.

Born in Memphis, Tennessee, Bates completed her graduation from White Station High School and from Southern Methodist University where she majored in Theatre. In 1970 she moved to New York city to pursue an acting career. She made her debut in feature film in the 1971 Miloš Forman comedy Taking Off. After that she worked in about a dozen more films but didn't rise to prominence until 1990. It was in 1990 that Bates became a household name with her performance in the Stephen King thriller drama Misery alongside James Caan, which earned her an Oscar as well as a Golden Globe award in the Best Actress category. She followed this with major roles in Fried Green Tomatoes (1991) and Dolores Claiborne (1995), before playing the adorable Molly Brown in the multiple Oscar winning classic movie Titanic (1997).

Bates, 68, was the 2,589th person to have honoured with a star on the Walk of Fame.

On the work front, Bates will be seen next in black comedy drama Bad Santa 2 directed by Mark Waters. It is the sequel to the 2003 film Bad Santa. The film, that also stars Billy Bob Thornton, Tony Cox, Brett Kelly and Christina Hendricks is slated to hit the theatres this November.
What's your reaction to this article?
WOW
LOL
Happy
Cool
Sad
Angry
WOW
LOL
Happy
Cool
Sad
Angry
Kathy Bates
Billy Bob Thornton
Shirley Maclaine
Miloš Forman
Stephen King
James Caan
Mark Waters
Tony Cox
Brett Kelly
Christina Hendricks
Taking Off
Misery
Fried Green Tomatoes
Dolores Claiborne
Titanic
Bad Santa 2
Bad Santa