Oscar Wilde biopic is underway
Posted: 23 September 2016, Friday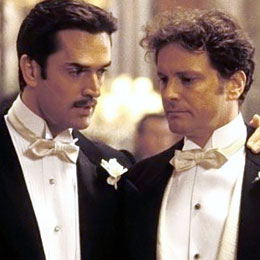 Rupert Everett's directorial, a biopic on the famous Irish novelist Oscar Wilde of late 1800s, is reportedly underway having commenced principal photography in Bavaria, Germany. The film was supposed to be shot sometime in 2013 but was shelved for reasons unknown.

My Best Friend's Wedding actor Everett will be directing the film off a screenplay penned by himself. The film is titled The Happy Prince, based on the author's famous short story of the same name.

The biopic will feature Everett and Bridget Jones's Baby actor Colin Firth in lead roles, and Edward Fox, Edwin Thomas, Colin Morgan, Emily Watson, Tom Wilkinson, Miranda Richardson, Beatrice Dalle and John Standing in pivotal roles. Everett will portray the character of Wilde, Firth will play Reginald "Reggie" Turner, a loyal friend who stood by the disgraced playwright to the bitter end, and Watson will play Wilde's wife Constance Lloyd.

The plot of the film will mostly focus on the struggle that the "The Importance of Being Earnest" author had to endure in the last days of his life. The film will apparently begin with the tragic last phase of Wilde's life, that involved harsh prison sentence for two years with hard labor, which eventually injured him to an extent that that led to his decline and death. The plot will show Wilde reflecting on his past life amidst this tragedy with a sharp wit.

The film will mark Everett's debut as both director and screenwriter. This will be the second film, after The Importance of Being Earnest, related to Wilde in which Everett, Firth and Fox have worked together. This will also be the second film in which Watson and Everett will be seen together after the 2005 thriller Separate Lies.

A release date for the film is yet to be revealed.
What's your reaction to this article?
WOW
LOL
Happy
Cool
Sad
Angry
WOW
LOL
Happy
Cool
Sad
Angry
Rupert Everett
Oscar Wilde
Colin Firth
Edward Fox
Edwin Thomas
Colin Morgan
Emily Watson
Tom Wilkinson
Miranda Richardson
Beatrice Dalle
John Standing
My Best Friend's Wedding
The Happy Prince
Bridget Jones's Baby
The Importance of Being Earnest
Separate Lies