'Hera Pheri' to make a comeback
Posted: 27 February 2015, Friday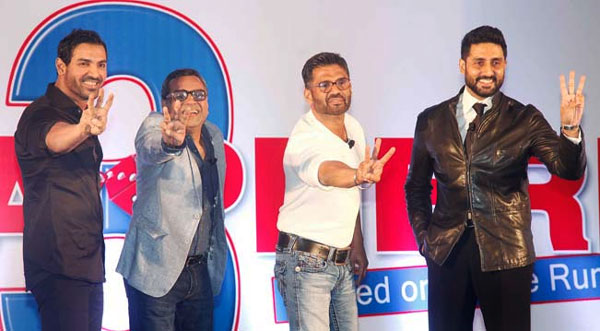 Filmmaker Priyadarshan's Hera Pheri franchise has remained Bollywood's one of the most popular and successful comedy series, which revolved around the lives of of landlord Baburao Ganpatrao Apte aka Babu Bhaiyya (Paresh Rawal), and his tenants Raju (Akshay Kumar) and Shyam aka Ghanshyam (Sunil Shetty). The first in the series when released in 2000, did not have a grand opening, however it climbed the ladder of popularity later on so much so that it is regarded as one of the best Hindi comedy films ever made.

A sequel of the film, Phir Hera Pheri, was released in 2006 that saw the three lead actors reprising their roles from the original film. The sequel, directed by Neeraj Vora and produced by Feroz Nadiadwala, was one of the highest grossing Bollywood films of 2006 and was the first commercially successful sequel in Bollywood.

News now has it that Vora and Nadiadwala will be returning with the third installment of the franchise, Hera Pheri 3, which will see Rawal and Shetty reprising their roles. Although the on-screen chemistry between the three lead actors have always mesmerized the audience, Akshay will unfortunately be missing from this new release due to payment issues. This release will however see two new actors joining the cast - Abhishek Bachchan and John Abraham. The two actors will essay the role of Raju Khabri and Raju Duplicate respectively.

The film will also see Abhishek's real-life mother and award-winning actress Jaya Bachchan in the role of his on-screen mother. This will be the third time the mother-and-son duo will play on-screen mother-and-son after 2002 Bengali film Desh and 2008 Hindi film Drona. Jaya will apparently play the role of a quirky mother, a kind of role she never attempted before.

The makers of the film are all set to make the upcoming release a lot more funnier than the previous two installments. Vora mentioned in one of his statements, "It's a challenge to make a sequel to Hera Pheri and Phir Hera Pheri. I hope to take the third part to a different level of madness altogether. It will be as funny and as mad as I am."

Vora's comments were complimented by producer Nidadwala's comments, "The third instalment will be on a bigger scale and will be ably supported by strong performances. It's our endeavour to make Hera Pheri 3 one of the most sought-after family entertainers of this year."

News also has it that the model-turned-actress Sakshi Chaudhary will play John Abraham's romantic lead in the movie. Not much details about her role has been revealed yet; in fact the character to be played by the debutante has been kept well under wraps. This film will mark Sakshi's debut film in Bollywood, as well as first collaboration with Nadiadwala, with whom she has already signed a contract for three films.

The film, which is supposed to start filming this month, will be shot in various lcoations including Las Vegas, Abu Dhabi, Macau and Mumbai.

The film is expected to hit the theatres in December this year.
What's your reaction to this article?
WOW
LOL
Happy
Cool
Sad
Angry
WOW
LOL
Happy
Cool
Sad
Angry
Priyadarshan
Abhishek Bachchan
Jaya Bachchan
Paresh Rawal
Akshay Kumar
Sunil Shetty
Neeraj Vora
Feroz Nadiadwala
Sakshi Chaudhary
Hera Pheri 3
Hera Pheri
Phir Hera Pheri
Desh
Drona