Om Puri dies at 66
Posted: 08 January 2017, Sunday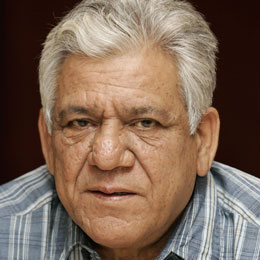 Bollywood's one of most talented actors, and two time National Award winner Om Puri passed away on January 6, 2017, at his residence in Andheri, Mumbai, reportedly following a massive heart attack. The veteran actor was 66 at the time of his death.

Filmmaker Ashoke Pandit, a close friend of the actor, first confirmed the news of his death on Twitter.

Puri is one powerhouse actor who needs no introduction in Bollywood or international cinema. With degrees from Film and Television Institute of India, Pune, and National School of Drama, New Delhi, Puri started his acting career in Hindi film industry with Godhuli (1977). He tasted his first success three years later with Aakrosh (1980), a film that brought him huge appreciation and his first Filmfare Award in the Best Supporting Actor category. He is probably the only Bollywood actor to date to have received National Film Award for Best Actor in two consecutive years (for films Arohan (1982) and Ardh Satya) (1983).

In addition to film awards, Puri was also honoured with Padma Shri, the fourth highest civilian award of India, and OBE (Order of the British Empire), the fourth higest civilian award of British Empire.

Puri also appeared in several international film to date including Gandhi (1982), City of Joy (1992), Wolf (1994), The Ghost and the Darkness (1996), My Son the Fanatic (1997), Such a Long Journey (1998), East Is East (1999), The Mystic Masseur (2001), The Parole Officer (2001), Code 46 (2003), Charlie Wilson's War (2007), West Is West (2010), The Hundred-Foot Journey (2014), and Viceroy's House (2016).

Social media was flooded with tributes for this great actor of all times, from the world of entertainment, politics and sports, as soon the news of his demise surfaced.

Puri is survived by his son Ishaan Puri. Ishaan is the son of Puri and his second wife journalist Nandita Puri, with whom he remained married between 1993 and 2013. Before Nandita, Puri married Seema Kapoor, sister of actor Annu Kapoor, in 1991 but the marriage ended after eight months.

As far as his work life is concerned, Puri was last seen in Rakeysh Omprakash Mehra's romantic thriller drama Mirzya. His last international project has been Gurinder Chadha's Viceroy's House which is slated to hit the theatres in March.
What's your reaction to this article?
WOW
LOL
Happy
Cool
Sad
Angry
WOW
LOL
Happy
Cool
Sad
Angry
Om Puri
Ashoke Pandit
Annu Kapoor
Rakeysh Omprakash Mehra
Gurinder Chadha
Godhuli
Aakrosh
Arohan
Ardh Satya
Gandhi
City of Joy
Wolf
The Ghost and the Darkness
My Son the Fanatic
Such a Long Journey
East Is East
The Mystic Masseur
The Parole Officer
Code 46
Charlie Wilson's War
West Is West
The Hundred-Foot Journey
Viceroy's House
Mirzya