Ranbir & Hirani team up for Sanjay Dutt biopic
Posted: 27 February 2015, Friday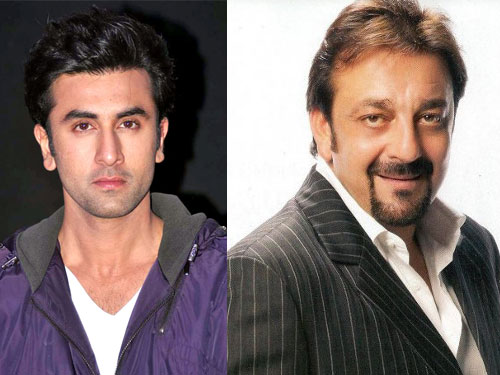 One of the most acclaimed directors in Bollywood, Rajkumar Hirani, is all set to bring the life of his good friend, actor Sanjay Dutt, to the silver screen. And the Barfi! (2012) actor Ranbir Kapoor has reportedly been zeroed in to essay the role of the 54-year-old actor.

According to an insider source, "Maanyata bhabhi (Sanjay's wife) was keen on a film being made on her husband's life for Sanjay Dutt Productions. But the couple wanted only Rajkumar Hirani to direct the film as Sanju sir has created magic with Raju (Hirani) in Munnabhai M B B S and Lage Raho Munna Bhai."

"Both Maanyata bhabhi and Sanju sir wanted Ranbir to play Sanjay Dutt in Hirani's film. Ranbir is a die-hard Sanjay Dutt fan. And he has readily agreed to play the role," added the source.

Actor Sanjay and director Hirani, who worked together in Munna Bhai MBBS (2003), Lage Raho Munna Bhai (2006), and PK (2014), are close pals although Hirani has no intention of glorifying Dutt through the biopic. "A biopic has to be truthful, and, especially in Sanjay's case, we will have to be truthful because we don't want to be accused of glorifying him. I have also told him this clearly, 'If we make this film, we want to tell this story as it is with all your flaws and your goodness'. I don't think anybody has lived a life like Sanjay's. It's like he has lived 20 lives in his 55 years," said the veteran filmmaker.

The 3 Idiots (2009) director is hopeful about creating an interesting biopic as Dutt's life is full of fascination, emotional and funny events.

When asked why Ranbir was chosen to play the male lead, the 52-year-old director stated, "It wasn't necessary that we have to find an actor who resembles Sanju. Still, you look at Sanju's picture from Rocky (1981) days and Ranbir's. They both have a similar 'stardom' on their face. Also, if you look at Ben Kingsley, he has no real resemblance with Gandhiji. Unlike Gandhiji, Kingsley is tall."

Although Ranbir has some resemblance to young Sanjay, he will need to put on some extra kilos to portray the latter life of Sanjay. After recovering from drug problems, Sanjay worked on his body and that's the reason Ranbir will have to beef up in order to do justice the character. Ranbir, who is known to work hard to get into the skin of his character, has reportedly agreed to bulk up and is excited about playing the role of Sanjay. "Portraying Sanjay sir on screen is a big task. And it comes with a huge responsibility. He's had a very entertaining, engaging, and a roller-coaster kind of a life," stated Ranbir in one of his interviews.

This film will mark the first ever collaboration between Ranbir and Hirani.

There was a strong speculation on Amitabh Bachchan to be playing the role of Sanjay's father, actor-turned-politician Sunil Dutt. Due to Sanjay's close association with the Bachchan family, the Cheeni Kum (2007) actor's name came up automatically. However, the names of the actors who will portray Sanjay's high-profile parents, the very popular actor Late Sunil Dutt and National Award-winning actress Late Nargis Dutt, are yet to be announced officially.

A convict in the March 1993 Mumbai blasts due to illegal possession of arms, Sanjay is currently serving the remainder of his five-year imprisonment at Yerwada Central Jail in Pune, India since May 2013.
What's your reaction to this article?
WOW
LOL
Happy
Cool
Sad
Angry
WOW
LOL
Happy
Cool
Sad
Angry
Ranbir Kapoor
Amitabh Bachchan
Sanjay Dutt
Rajkumar Hirani
Ben Kingsley
Sunil Dutt
Nargis Dutt
Barfi!
Munna Bhai MBBS
Lage Raho Munna Bhai
PK
3 Idiots
Rocky
Cheeni Kum