Why leading actresses say 'NO' to Akshay's films
Posted: 30 June 2014, Monday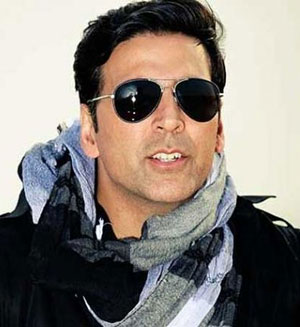 Bollywood superstar Akshay Kumar is one of most popular and most successful leading actors however that do not seem to make the leading actresses willing enough to be cast opposite him.

A-listed heroines like Deepika Padukone, Kareena Kapoor, and Katrina Kaif, who have all remained his co-stars at one point, were available when approched for his upcoming films ("It's Entertainment", "Shaukeen", and "Singh Is Bling" but each of them turned down the offers. This led to Akshay,46, having to settle for lesser known names like Tamannaah Bhatia, Lisa Haydon and Heropanti (2014) actress Kriti Sanon.

According to inside sources, the heroines are not comfortable being paired with Akshay as they fear that their roles will be chopped at the edition table. "In Akshay's films such as Boss, Once Upon A time In Mumbaai Dobaara, Rowdy Rathore to name a few, the actresses were reduced to mere props. For his next, Singh Is Bling, Akshay tried his best to rope in Kareena, Katrina and Deepika but had to settle for newcomer Kriti Sanon".

Another top actress of Bollywood and former beauty queen Priyanka Chopra, who acted with Akshay in Mujhse Shaadi Karogi (2004), will probably never consider working with the actor again due to their alleged link-ups and Akshay's wife Twinkle Khanna's alleged ban on their on-screen pairing.

Akshay's also made a popular on-screen pair with Sonakshi Sinha in films like Rowdy Rathore (2012), Joker (2012), Once Upon ay Time in Mumbai Dobaara! (2013), however Sonakshi seems more interested in signing films opposite other actors.

While some sources say that Akshay was mighty impressed with Kriti after watching her performance in Heropanti (2014), the buzz is that the 46-year old actor was left with no other option after being turned down by the leading ladies of Bollywood.

Akshay will be seen with Kriti in Singh Is Bling (2015) which is an action comedy film directed by Prabhu Deva, with Tamannaah in It's Entertainment (2014) which is a comedy film directed by Sajid-Farhad, and with Lisa in Shaukeen (2014) which is a comedy film directed by Abhishek Sharma.
What's your reaction to this article?
WOW
LOL
Happy
Cool
Sad
Angry
WOW
LOL
Happy
Cool
Sad
Angry
Akshay Kumar
Deepika Padukone
Kareena Kapoor
Katrina Kaif
Tamannaah Bhatia
Lisa Haydon
Kriti Sanon
Twinkle Khanna
Prabhu Deva
Sajid-Farhad
Abhishek Sharma
It's Entertainment
Shaukeen
Singh Is Bling
Mujhse Shaadi Karogi
Boss