Brad, Angelina have an 'iron-clad' prenup
Posted: 27 September 2016, Tuesday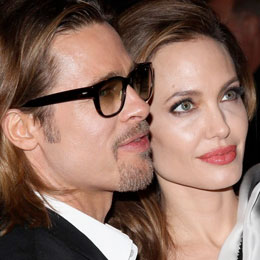 The divorce news of Hollywood's power couple Brad Pit and Angelina Jolie shocked the world recently, and the nasty details hinting at Pitt's abusive parenting, FBI intervention on that matter, and Pitt's alleged extra-marital affair made the divorce look even more scandalous.

New reports now suggest that the world's most talked about couple had a solid pre-nuptial agreement in place, which is supposed to make their divorce easier. The now former pair share a fortune of USD 400m between the two of them and own a total of twelve properties, all of which were purchased before they entered into the wedlock. Out of those twelve properties, Pitt owns seven and Jolie owns two. They are also the joint owners of the remaining three, that include a mansion in New Orleans, a plush apartment in New York and a vineyard in France.

However, with an 'iron-clad' prenup in place, dividing the fortune seems to be one of the least worries on Pitt and Jolie's minds, at least for now. Their biggest issue is now the custody of their six children - the three adopted kids Maddox, 15, Pax, 12, Zahara, 11, and the three biological kids Shiloh, 10, Knox, 8, and Vivienne, 8. When filing for divorce, Jolie asked for physical custody of all the six children and demanded that her estranged husband is given visitation rights only on basis of his wrong parental style, something that irked Pitt as he wants to be a part of his children's lives as they grow up.

"He wants to have a significant role in his kids' lives and he wants to be with them consistently, but he also wants them to be in the most protected and proper environment," a source close to the The Big Short actor revealed recently.
What's your reaction to this article?
WOW
LOL
Happy
Cool
Sad
Angry
WOW
LOL
Happy
Cool
Sad
Angry
Brad Pit
Angelina Jolie
The Big Short