Jesse Eisenberg is going to be a father
Posted: 12 October 2016, Wednesday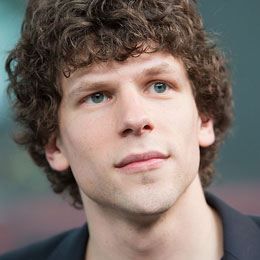 Hollywood actor Jesse Eisenberg has every reason to celebrate as he and his longtime girlfriend Anna Strout, whom he has been dating more than a decade, are expecting their first child together.

The Social Network actor started dating Strout in 2002, but they broke up in 2012. During this time, Eisenberg was romantically involved with the Australian actress Mia Wasikowska, with whom he co-starred in the thriller drama The Double (2013). However, the duo broke up after two years, and Eisenberg rekindled his relationship with Strout towards the end of 2015.

The couple are now expecting their first child, and this will be the first for both of them.

On the work front, Eisenberg will be seen next in Warner Bros' superhero drama Justice League alongside Ben Affleck and Henry Cavill. The film is planned for a November 2017 release.
What's your reaction to this article?
WOW
LOL
Happy
Cool
Sad
Angry
WOW
LOL
Happy
Cool
Sad
Angry
Jesse Eisenberg
Mia Wasikowska
Ben Affleck
Henry Cavill
The Social Network
The Double
Justice League