Depp's wife Amber faces charges in Australia
Posted: 17 July 2015, Friday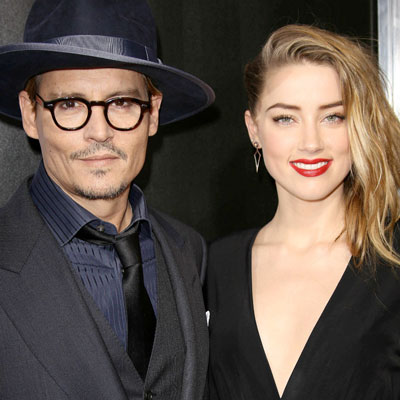 Hollywood actor Johnny Depp's wife Amber Heard is reportedly facing charges for bringing two of their dogs, Terriers Pistol and Boo, into Australia.

The Department of Agriculture, Australia, which is responsible for biosecurity, stated that the 29-year-old model was served with a summon to answer charges on July 14 for allegedly breaching the quarantine laws of the country, penalties for which range from fines to a maximum of 10 years in prison. The law apparently requires the dogs to be subject to strict control for biosecurity reasons, which involve a minimum-10 day stay in a quarantine facility and a mandaory permit.

"(This) action follows an incident where a biosecurity officer attended a Gold Coast property and found two dogs alleged to be illegally imported," a spokeswoman of the department was quoted as saying.

A hearing for the case will apparently be held in September in a Queensland state court, although it is not known whether the Never Back Down (2008) actress will appear in person or not.

The two dogs of the Depp family caused huge media storm earlier this year after being discovered in Queensland, where the award winning actor is currently filming for his forthcoming film Pirates of the Caribbean: Dead Men Tell No Tales, for the reason that the necessary procedures for the dogs were bypassed. The country's Agriculture Minister Barnaby Joyce threatened to have the animals put down unless they were sent back to US: "It's time that Pistol and Boo buggered off back to the United States. You come into our nation, you have to abide [by] biosecurity protocols. It's not just the people on the streets that would be affected, if that got out into the general wild dog population in Australia, which is massive, it would have devastating effects. It's also a pathogen that could make its way into the bat population, and how many towns do you know that have a bat colony smack bang, unfortunately, in the middle of town? We've got enough problems with them, let alone if they became rabid."

The two dogs were reportedly sent back to US post this incident, however, it looks like trouble is not over yet for their owners.
What's your reaction to this article?
WOW
LOL
Happy
Cool
Sad
Angry
WOW
LOL
Happy
Cool
Sad
Angry
Johnny Depp
Amber Heard
Never Back Down
Pirates of the Caribbean: Dead Men Tell No Tales