Stephen Fry to play Nazi in Margery Booth biopic
Posted: 08 January 2017, Sunday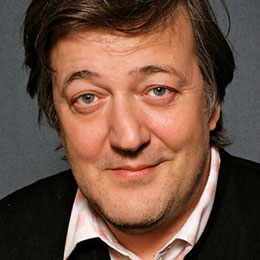 British actor Stephen Fry has reportedly been zeroed in to play a leading Nazi officer Hermann Göring in the biopic of little-known but an outstanding English opera singer Margery Booth. Although Booth performed for Hitler and British POWs, she was actually a World War II spy for the English regiment.

Editor Peter Davies is all set to make his directorial debut with this war drama titled Margery Booth: The Spy In The Eagles Nest based on a screenplay penned by Ralph Harvey. The script is said to be including the Cole Porter song "You'd Be So Nice To Come Home To", which was sung as a duet by Booth and Hitler.

German actor Udo Kier has also been signed to portray the role of Hitler, and British singer Lesley Garrett is believed to be providing the vocals for Booth. The cast for Booth is yet to be finalised.

Booth (1905-1952) was born in Wigan, Manchester, and emigrated to Germany before the outbreak of WWII. During her stay in Germany she helped British intelligence service MI6. Towards the end of the war Booth was arrested and tortured by the Gestapo, the Nazi secret service founded by Göring, Hitler's deputy and commander-in-chief of the German air force. Booth managed to escape Berlin during a bombing raid and returned to Britain where the information she revealed helped progress the trials of John Amery, a British fascist, and William Joyce aka Lord Haw-Haw, an American-born, Irish-raised British Fascist politician and Nazi propaganda broadcaster to the United Kingdom during World War II, both of whom were hanged on account of high treason. However, Booth was professionally rejected in the UK after some producers mistakenly concluded that she had been a Nazi. She emigrated to New York after that; was diagnosed her with terminal cancer upon arrival and died soon after.
What's your reaction to this article?
WOW
LOL
Happy
Cool
Sad
Angry
WOW
LOL
Happy
Cool
Sad
Angry
Stephen Fry
Peter Davies
Cole Porter
Udo Kier
Lesley Garrett
Margery Booth: The Spy In The Eagles Nest