Stallone, Driver team up for war drama
Posted: 05 January 2017, Thursday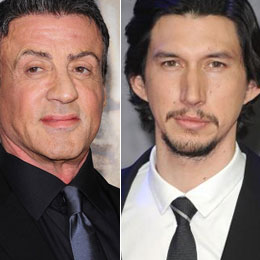 "Rocky" Sylvester Stallone is reportedly joining hands with Adam Driver for his next war drama. The 70-year-old action star is also on board as the director of the film titled Tough as They Come.

The film will be an adaptation of a best-selling memoir of the same name by Marcus Brotherton and Travis Mills. The story is based on true events of the life of an United States Army Staff Sergeant named Travis Mills who, during his third tour of duty in Afghanistan, was caught in an IED blast just four days before his 25th birthday. Against all odds, he lived, but at a severe cost and became one of only five soldiers from the wars in Afghanistan and Iraq to survive a quadruple amputation.

According to reports, 33-year-old Driver, who himself was a former serviceman of the US Marines, will portray the character of Mills while Stallone will play his father-in-law, Craig Buck, who stood by Mills' side since his return from the hospital. The relationship between the two men will apparently form the crux of the war drama.

A release date for the film is yet to be announced as it's still in an early stage.
What's your reaction to this article?
WOW
LOL
Happy
Cool
Sad
Angry
WOW
LOL
Happy
Cool
Sad
Angry
Sylvester Stallone
Adam Driver
Tough as They Come