Zee Cine Award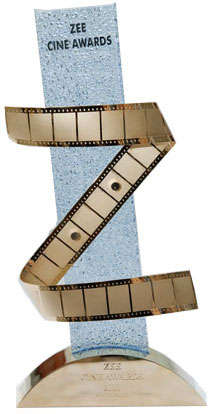 Awards Location
India
Awarded to Media
Film
Award Presented by
Zee Telefilms Limited
First Awarded
Zee Cine Awards was first awarded in 1998.
Check out the awards by year
About this Award
Zee Cine Awards was established in 1998 to reward the best artists in the Indian Cinema Industry. Zee Cine Awards (or ZCA) is parented by Zee Telefilms Limited. The prestigious award ceremony of Bollywood was first held in Mumbai. As Lux was the sponsor for the year, the event was also known as Lux Zee Cine Awards 1998 or Zee Cine Awards 1998. More than 2 million Indians across 120 countries voted for their favorite stars and favorite movies. The winners for five popular categories are elected through 100% viewer voting so Zee Cine Awards are considered as the first Democratic Award Event in the history of Global Indian Cinema.

In 2004, the ZCA went international and had their ceremony in Dubai, and in following years in London, Mauritius, Malaysia, and London again in 2008. The award ceremony was not held in 2009 or 2010, but resumed in 2011, being held in Singapore.